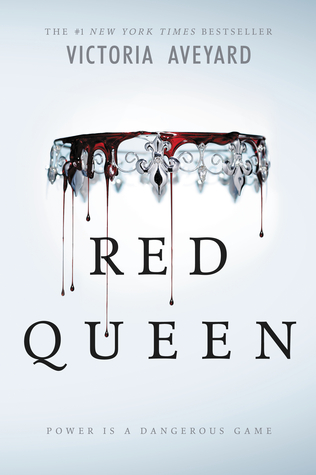 Title: Red Queen
Author: Victoria Aveyard
Pages: 383
Publication Date: February 10, 2015
Rating: 4/5
Synopsis: This is a world divided by blood – red or silver. The Reds are commoners, ruled by a Silver elite in possession of god-like superpowers. And to Mare Barrow, a seventeen-year-old Red girl from the poverty-stricken Stilts, it seems like nothing will ever change. That is until she finds herself working in the Silver Palace. Here, surrounded by the people she hates the most, Mare discovers that, despite her red blood, she possesses a deadly power of her own. One that threatens to destroy the balance of power. Fearful of Mare's potential, the Silvers hide her in plain view, declaring her a long-lost Silver princess, now engaged to a Silver prince. Despite knowing that one misstep would mean her death, Mare works silently to help the Red Guard, a militant resistance group, and bring down the Silver regime. But this is a world of betrayal and lies, and Mare has entered a dangerous dance – Reds against Silvers, prince against prince, and Mare against her own heart.
---
"The truth is what I make it. I could set this world on fire and call it rain."
---
Red Queen follows the main character, Mare, as she desperately tries to escape being drafted into the army. In their society, it is red-bloods against silver bloods. Red bloods are normal, everyday humans. Silvers are power – in every sense of the word. They possess abilities that most people dream they could have. Mare gets a job working at the summer home of the king, and, while working there, it is discovered that Mare has the power to control electricity – but she's a red-blood. Cue a political cover-up, a terrorist group, and overall drama. Red Queen is a must-read for fans of superheroes and The Hunger Games!
"Anyone can betray anyone."
I've now read Red Queen three times, and every time I like it just as much as I did the first time I read it. This book is a whirlwind roller coaster ride that sweeps you along from start to finish.
Victoria Aveyard does a wonderful job crafting her characters. Each and every one of them have a perfectly fleshed out personality and worldview. They also all have a really great character arc. All of them are motivated by something, and I think that that is something I don't see in a lot of YA fiction. Most of the time, you have the main character who has their objectives, and reasons for wanting that, and then you have the antagonist and their objectives, and their reasons for wanting that. In Red Queen, there are so many characters, and all of the main and secondary characters have objectives, reasons behind that objective, and they are all very clearly pursuing their goal. I think that is the main reason why I love this story so much. That one fact really makes the world of Norta come alive and seem real. All of the political espionage that goes on in this story paints a gorgeous portrait, but the characters themselves are what makes the story come alive.
Another one of my favorite aspects of this novel is the ending. Without going into much detail, because I don't want to give out any spoilers, the ending is magnificent. There is such a wonderful cliff-hanger that puts you on the edge of your seat and leaves you desperately wanting the next book! Victoria Aveyard delivers such a gracefully executed plot twist that leaves you with whiplash, that's how unexpected it is! The ending is just perfection.
As much as I really enjoyed this book, there is a reason why I didn't give it a full five stars. This book was wonderful, but it does lack some originality. At first glance, it seems like a new, exciting concept – but once you read it, it just comes off like it's reminiscent of something else that you read recently…but just can't quite put your finger on. I thought about it a little more and realized that it's basically Game of Thrones meets The Hunger Games with some super-powers thrown in. On top of that, the author does use a lot of popular YA tropes throughout the novel, which come off as more than a little cheap. HOWEVER, I think that the rest of the series more than makes up for the slight cheesiness of book number one!
Overall, I think that Red Queen is a really great novel, and I definitely recommend listening to the audiobook! The narrator for it is really good, and it helps you to overlook some of the moments where the plot drags a bit, due to world-building and character development. I think that Victoria Aveyard is a tremendous author, and definitely one that you should look out for! I'm excited to see where she goes from here!
Happy reading!
Stephanie