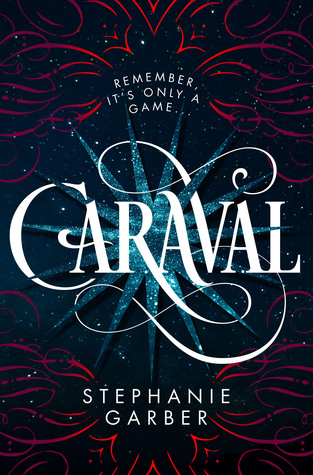 Title: Caraval
Author: Stephanie Garber
Pages: 407
Publication Date: January 31, 2017
Rating: 5/5
Synopsis: Scarlett Dragna has never left the tiny island where she and her sister, Tella, live with their powerful, and cruel, father. Now Scarlett's father has arranged a marriage for her, and Scarlett thinks her dreams of seeing Caraval—the faraway, once-a-year performance where the audience participates in the show—are over.
But this year, Scarlett's long-dreamt-of invitation finally arrives. With the help of a mysterious sailor, Tella whisks Scarlett away to the show. Only, as soon as they arrive, Tella is kidnapped by Caraval's mastermind organizer, Legend. It turns out that this season's Caraval revolves around Tella, and whoever finds her first is the winner.
Scarlett has been told that everything that happens during Caraval is only an elaborate performance. Nevertheless she becomes enmeshed in a game of love, heartbreak, and magic. And whether Caraval is real or not, Scarlett must find Tella before the five nights of the game are over or a dangerous domino effect of consequences will be set off, and her beloved sister will disappear forever.
"Hope is a powerful thing. Some say it's a different breed of magic altogether. Elusive, difficult to hold on to. But not much is needed." 
Caraval follows the man character Scarlett through the fantasy realm of Caraval. Scarlett has always been a dreamer, and grew up with stories of the famous Legend and his magical game of Caraval. It has always been her wish to be able to attend one of the magnificent displays, and finally, she gets her wish! But be careful what you wish for – once Scarlett gets there, she finds out that her sister has been taken, and whoever finds her will be the winner of Caraval, and the prize is one wish. Can Scarlett dodge the obstacles in her path, figure out Caraval's secrets, and claim the prize? Is the cost worth it?
"Every person has the power to change their fate if they are brave enough to fight for what they desire more than anything" 
I think you can tell from my five star rating that I absolutely LOVED this book. A friend of mine gave it to me as a gift for my birthday about a year ago, and since then I've read it three times.
First of all, I love the premise. It's such an original idea, and the plot is excellently set up. I never feel like there is a slow part, or a part that was put in solely for transition. It all feels necessary, and adds to the urgency of Scarlett's situation. I've never read a book like this, and it is impeccably done!
I also love the relationship between Scarlett and Tella, it reminds me a lot of my relationship with my own sister (I'm the younger sister, so I'm definitely more like Tella than Scarlett, but I think I love Scarlett more since she reminds me so much of my sister). They will do absolutely anything for the protection of each other. They are always there for each other, no matter what.
Thirdly, I think that Stephanie Garber did an amazing job with the character development. All of the characters are there for a purpose. All of them have their own agendas and are fully fleshed out characters. You meet so many interesting people in this novel that it keeps you invested in the story!
Finally, I love how interconnected everything is! There's never an event that doesn't matter to the story. Every little thing has something bigger that it's attached to. Like I said, I've read it three times, and every time I read it I catch something that I didn't the time before. There are threads that are woven all throughout this book, and when they come together, they make a beautiful tapestry!
"She imagined loving him would feel like falling in love with darkness, frightening and consuming yet utterly beautiful when the stars came out." 
Overall, this book is amazing! It's one of my favorites of all time. It's impeccably written! It also doesn't have a strictly YA feel to it. It seems ageless and timeless. This fantasy world seems like it could pop up anywhere on earth. It's truly amazing! This one gets five bright and shining stars from me!
Happy reading!
Stephanie