It's Tuesday and time for another Top Ten Tuesday, which is currently being run by Jana over at That Artsy Reader Girl.
This week's (February 12, 2019) topic is: Favorite Couples in Books
As there are two of us here at Bookishly Slytherclaw, we'll be splitting this list up and each of us will choose five!
Felicia's Five
Juliette and Warner from the Shatter Me series by Tahereh Mafi
I think I'm one of the few who was rooting for Warner from the very beginning. Something about him always made me feel like he should be with Juliette and not other characters in the story. I adore this series and can't wait to see what comes for all the characters in Defy Me!

Magnus and Alec from The Mortal Instruments series by Cassandra Clare
Magnus and Alec will forever and always be my OTP from Cassandra Clare's books. I can get behind many of the relationship in her books, but Magnus and Alec has and always will be my favorite. Their relationship isn't easy but it feels so real to me and I absolutely can't wait for The Eldest Curses trilogy to come out to have more about these two characters.

Jude and Cardan from The Cruel Prince by Holly Black
I'm completely obsessed with these two and I've only read The Cruel Prince. I hope my heart isn't completely broken in The Wicked King because I don't think I will be able to handle that.
Kaz and Inej from Six of Crows and Crooked Kingdom by Leigh Bardugo
These two characters! Oh my, the romantic tension between them drives me crazy. In my opinion, they definitely need to be together and during the course of the two books, I go slightly insane because of the immense tension.
Aelin and Rowan from Throne of Glass series by Sarah J. Maas
If you haven't read through the entire Throne of Glass series, skip this one because there will be major spoilers, but my list of favorite couples from books would absolutely be incomplete without Aelin and Rowan. I'm obsessed with them and their relationship. Before I even got around to reading more of the series, I had seen people mention Rowan and I was so confused. Then I got to Heir of Fire and he was introduced and I was obsessed. The banter between the two of them throughout the books is one of my favorite things and I can't imagine Aelin with anyone other than Rowan.
Stephanie's Five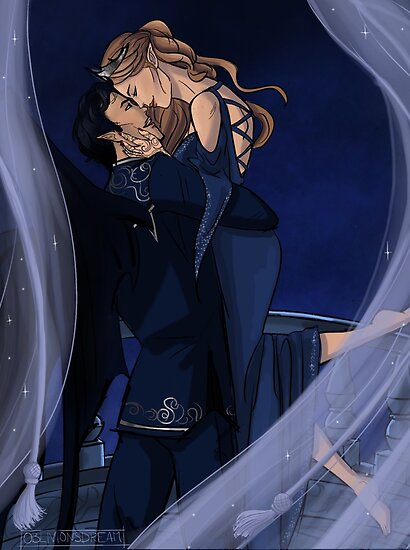 Feyre and Rhys from A Court of Thorns and Roses by Sarah J Maas
A Court of Thorns and Roses was the first book I read by Sarah J. Maas and I couldn't get enough. Though if you haven't read past the first novel, you might want to skip ahead to one of the other couples…SJM likes to play on our emotions by introducing new characters! I remember after I finished the first book, I was obsessed with Feyre and Tamlin, but everyone kept posting things about Rhys – and while I was very intrigued by the king of darkness….I just couldn't seem to get past my love for Tamlin. But boy did that change in book two! I know now why everyone would post about how Feyre and Rhysand were perfect together – and I'm right there with them!
Simon and Blue from Simon Vs. The Homo Sapiens Agenda by Becky Albertalli
I first read this book as an audiobook right before the movie came out….and I immediately fell in love with quirky, spunky Simon and his anonymous internet crush. Of course, my obsession with these two only got bigger once it was revealed who Blue was…but I won't post any spoilers! Simon and Blue are such a cute, wholesome couple who find each other in the weirdest way, and they combat some horrible adversity, and I can't admire them more! Definitely my OTP!
Percy and Annabeth from the Percy Jackson series by Rick Riordan
Percy and Annabeth were my OTP before I even knew what that meant! I grew up reading about these two and their adorable crush on one another. When it actually turned into a relationship, it was the cutest thing imaginable! I love these two together – she keeps him grounded, but he brings out her wild side. They balance each other perfectly! I absolutely ADORE Percabeth!
Cath and Levi from Fangirl by Rainbow Rowell
As a bookish girl who spends all of her free time reading novels, I definitely associate with Cath from Fangirl (and yes, I am ashamed to say that I have written fanfiction…but no, absolutely no one has read it). Needless to say, a guy like Levi would be my dream – kind, considerate, caring, devoted, bright, funny, a barista…I could go on and on. Levi is so caring towards Cath that it's hard not to fall madly in love with him! I love the dynamic that these two share because they are so cute and funny together! Where can I get a boy like Levi?
Aelin and Rowan from Throne of Glass by Sarah J. Maas
Just like Felicia, my list would not be complete without my favorite fae couple – Aelin and Rowan (again, if you haven't read most of the TOG series, this will be spoilery for you!). Sarah J. Maas does a wonderful job of making you fall hard for each male that she pairs with her heroines, but I fell the hardest for Rowan Whitethorn. He's a complete ass, but his love for Aelin knows no bounds. He will move heaven and earth for her! Likewise for Aelin – she would do anything for her prince. The picture I chose is a rendition of my favorite scene from the Throne of Glass novels – from Queen of Shadows, when he comes to find her in Adarlan and they reunite. This scene in particular always makes my heart glow! I adore this couple, and they're definitely my all-time favorite bookish couple!
Who are your favorite book couples? Are any of your faves the same as ours?
Felicia and Stephanie