Hey everyone! I started this trend of doing an album tag once a month back in January, so I'm back now to do another one here in February! Every month I'm going to be choosing one of my favorite albums or soundtracks, and picking a book that I think fits each track on the album! Me and my coblogger Felicia just went to see Panic! At The Disco perform a couple weeks ago, so I just had to do their latest album for my February tag! Let's get started!
Fair warning – there will be some spoilers past this point…proceed with caution!
1 – (Fuck A) Silver Lining
"No wings of wax or endless mountains…it's just cherries, cherries, It's coming up cherries on top."

This one was really tough for me. I couldn't think of a book that really solidified the feeling I get when I listen to Silver Lining. I think that Teen Idol does a pretty good job of fitting the mold of this song – it's about a girl and a guy who is famous, and he inspires her to start social change at her school. Basically, he's saying that you don't need to have a silver lining, you can do better. It's not perfect…but it works!
2 – Say Amen (Saturday Night)
"Swear to God I ain't ever gonna repent, Mama can I get another Amen?"
Say Amen (Saturday Night) is one of those songs where it would be on the soundtrack for a movie version of this book. Everytime I listen to this book, I can't help but think of Kaz Brekker and his group of thieves. All of the characters in this book perfectly emulate the lyrics and feel of this book – all of them are horrible people….but aren't they the best kind?
3 – Hey Look Ma, I Made It
"Are you ready for the sequel? Ain't ready for the latest? In the garden of evil, I'm gonna be the greatest."
Yes, I did put both books from my favorite duology in here back-to-back…sue me! While I think that Say Amen really matches Six of Crows as a whole, Hey Look Ma, I Made It is an ode to Kaz Brekker. He's determined to be the greatest, and if you're not working with him, you're working against him. It's a perfect fit, in all honesty.
4 – High Hopes
"Shooting for the stars when I couldn't make a killing, didn't have a dime but I always had a vision, always had high, high hopes"
I just finished reading this book, and let me just say…I'm obsessed! I really feel like High Hopes is the perfect song for Geekerella because it encapsulates the two main characters flawlessly. On the one hand, we have Darien, who wants to be the best Prince Carmindor he can, on the other hand, there's Elle who wants to do right by her father, and live up to his legacy. It's a really beautiful pairing, so I'm glad I read this book in time for this book tag!
5 – Roarin' 20s
"This is my roaring, roaring 20s!"
Ok, I know what you're thinking "You chose this book because it's set in the 20s, and the song is Roaring 20s. So original, Stephanie." And yes, that's true – Part of the reason I chose the Diviners for this song was that it was set in the 20s, but there are other reasons too! The lyrics clearly set the song in New York, where the Diviners happens to take place. Also, the song really reminds me of one of the characters – Mabel. She's friends with the ultimate flapper-socialite, but she's so uncomfortable in that world…she just wants to go home. It's a perfect fit!
6 – Dancing's Not A Crime
"Dancin's not a crime unless you do it without me!"
I can't listen to this song and not immediately think of one of Cath's Emergency Kanye Dance Parties – I think this song really fits the fun and quirky feel of Fangirl, but most importantly, it provides such a visceral reaction every time I listen to it, that I couldn't possibly choose anything else for this list!
7 – One of the Drunks
"Night's young, searching for a feeling, Big fun, dancing with the demons"
Not going to lie, this one took me a while to choose. Every time I listen to this song, all I can think of is Chuck Bass from Gossip Girl. I just couldn't get him out of my head. But then I was thinking some more, and I got the thought of Will from the Infernal Devices series, and how he drinks to forget his sorrows. Then I coincidentally remembered that Ed Westwick (the actor who plays Chuck on Gossip Girl) was the narrator for the audiobook of Clockwork Prince. It's a match made in…well, hell.
8 – The Overpass
"That perfume lingers in your hair"
I don't know if anyone caught this, but in the Shatter Me series, smell is used often. Juliette will describe the smell of her t-shirt, or the smell of Warner, or Warner will describe how Juliette smells…and so on. Every time I would listen to The Overpass, I would get vibes of the Shatter Me series, and it took me a while to figure out why, but once I did, I can't stop seeing Juliette and Warner in the lyrics!
9 – King of the Clouds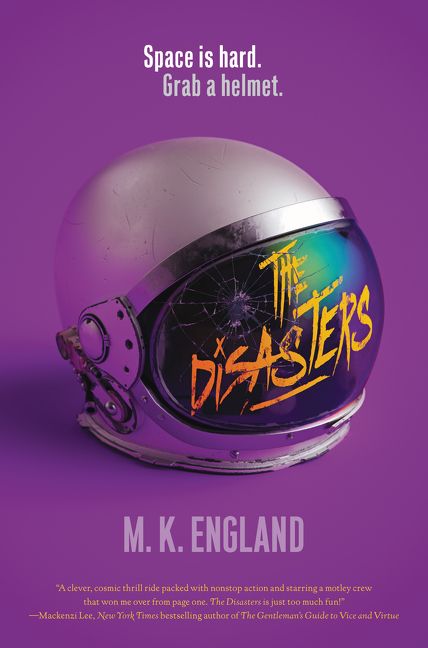 "And I fade, elevate from the earth far away to a place where I'm free from the weight."
Ok, so fair warning for this one, I am still reading this book, and I'm only about a hundred pages in. I knew for King of the Clouds I needed to choose something where the character is escaping from something, so the Disasters seemed perfect – a kid who turns to becoming a space pilot to escape his failures on earth, only to fail out of the space pilot program, only to need to escape space pirates. It seems like a pretty good fit – but if it turns out it's not…I'm sorry.
10 – Old Fashioned
"Remember your youth, in all that you do…they were the best of times of your life."
Every time I listen to Old Fashioned I get massive feelings of nostalgia. So I knew I needed to find a book that represented those feelings – and what better way to do that then to choose a book where the main character is calling her husband in the past? By remembering the worst moments in her life, she is able to appreciate the best ones and get her life back on track.
11 – Dying in LA
"You looked at death in a tarot card and you saw what you had to do."
This song is my absolute favorite on this album, so I knew that the book I picked had to be one that I really loved – cue Legendary. There are so many little pieces from this song that link back to the novel, honestly if I tried to point all of them out, we'd be here for hours! So I'll just hit the main point – be warned, MASSIVE spoilers follow this point! – In Legendary, we deal with a lot of tarot cards, but one in particular – death. Tella is fated to die, and she is dying throughout the book. She's in this magical land of dreamers and magic, but she's dying.
And that's the album! I know one or two aren't perfect pairings, but I think I still did pretty well! What books would you have chosen?
Happy reading,
Stephanie!